This is a "Vespa-Touring": Guests drive themselves
and are guided by staff of Bali Vespa Tour. Please
accept special conditions!
---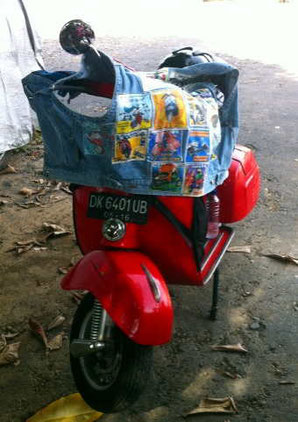 You do not have to be a Vespa Club member with your own "cowl" to participate in this tour, but it would not be an obstacle :-)
In the morning of the first day of the tour you'll be provided with "your" Vespa at your Hotel. We will pass Singaraja and drive further eastwards. At special points of interest we will have short brakes. (e.g. Temples, lookouts)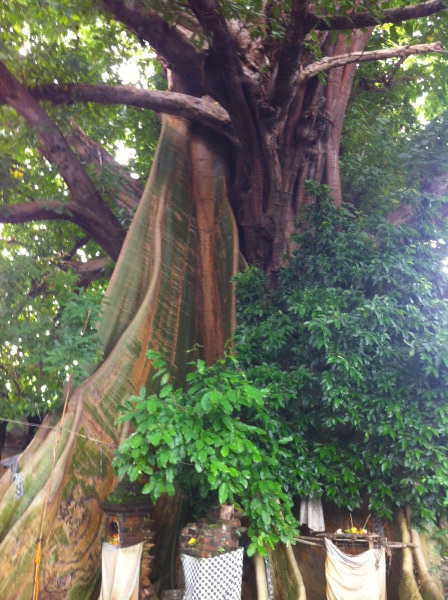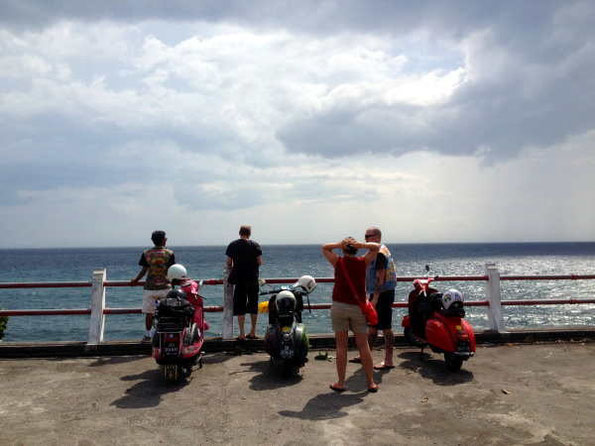 During the first few hours of your tour, you'll follow the road along the north coast.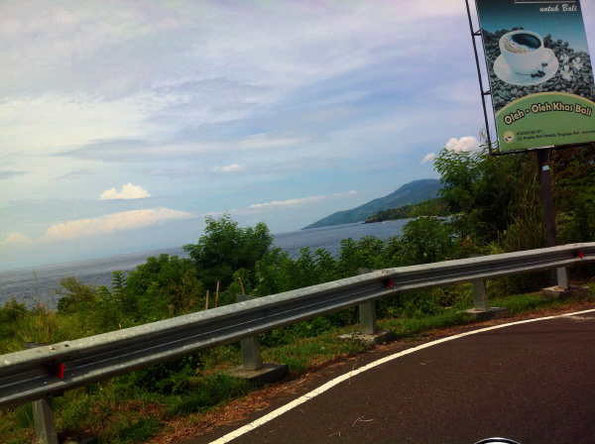 Along the way we have great views of the holy Gunung Agung - Bali's highest mountain .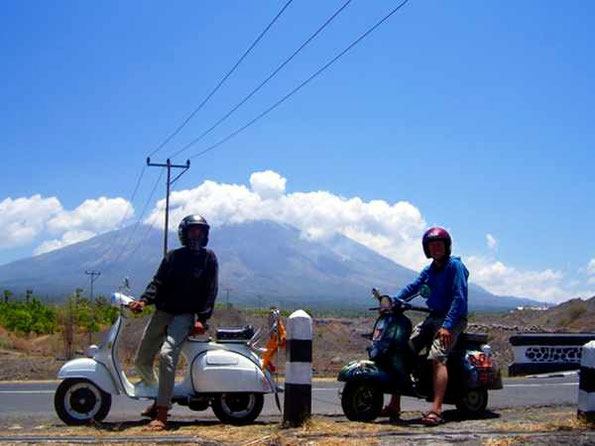 Maybe we will have the opportunity to visit an Arak distillery and follow the manufacturing process of Arak.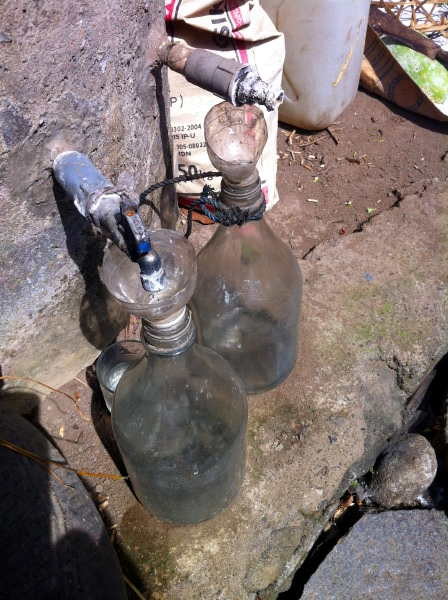 We continue our tour through this area with little traffic. The North-East-Cape is not reached by the road - instead it is cut by a twisting road up the slopes of Gunung Agung.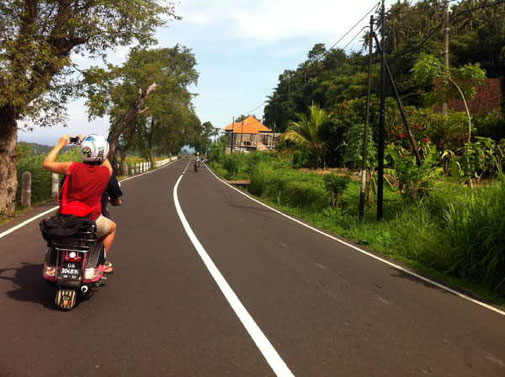 Again and again we'll have fantastic views. We'll have small rests or photo-stops following to your wishes. There'll be always time to have a coffee with a snack - and for lunch at a local Warung.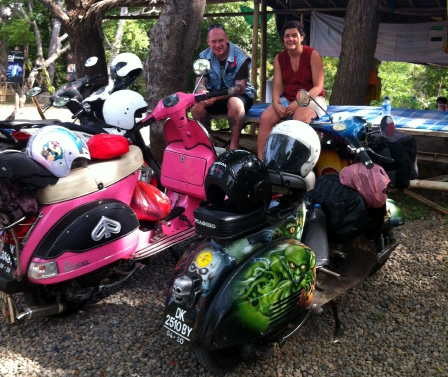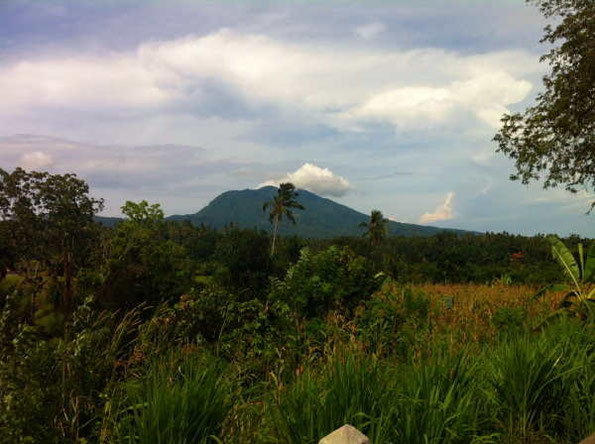 Having passed Tirtagangga and the city of Amlapura we will reach Virgin Beach after a long journey. There we can relax and swim to our hearts content. The consumption in the local Warungs (small restaurants) at that beach is not included in the tour-price.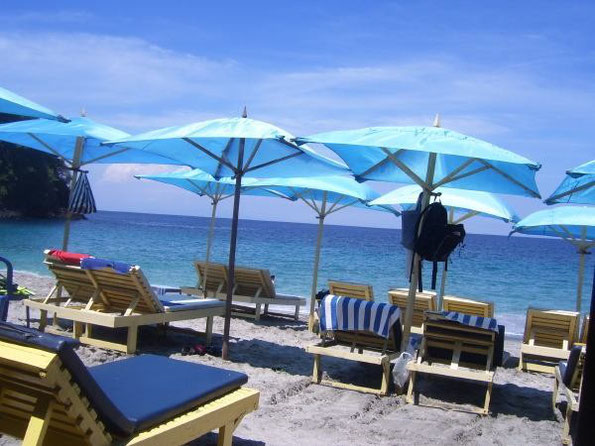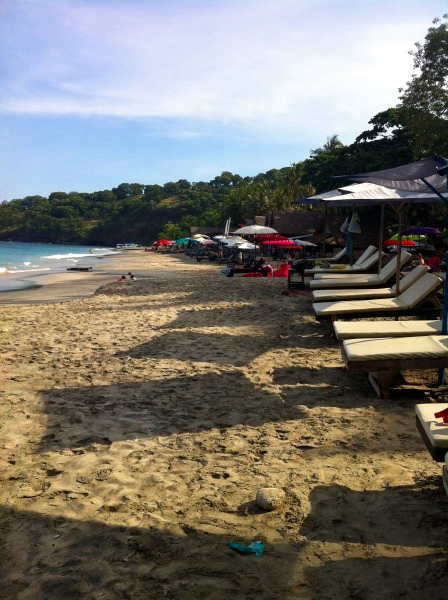 After a relaxing time on the beach we drive to Candidasa to find our Hotel at the beach.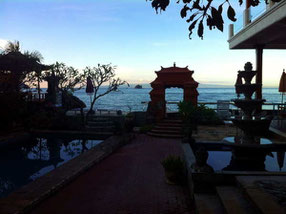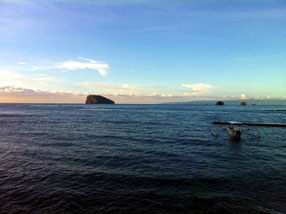 If you wish so, you can spend a part of the evening together with your guides at a local beach area in Candidasa. Of course you can relax at the hotel pool as well. Dinner and other evening pleasures are extra.
---
---
Second day
After a local standard breakfast we depart. Following the coastal road, soon we will arrive at the temple "Goa Lawah" (Bat Cave).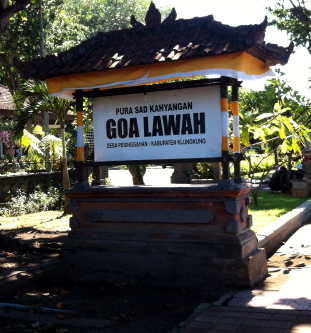 Since this is one of the main temples of Bali, certainly we will encounter Hindus in ceremonies: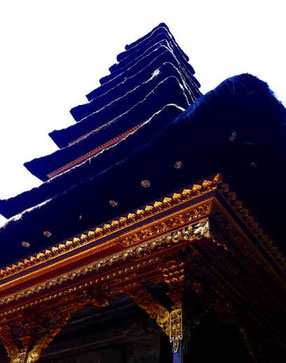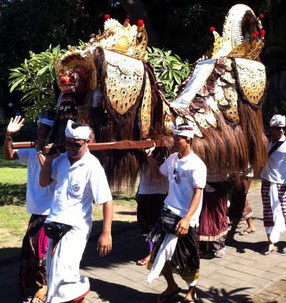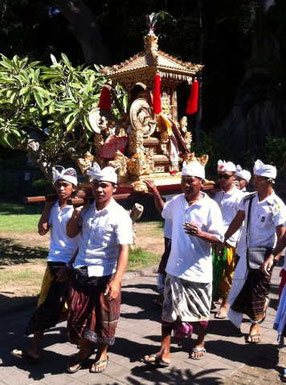 Since we have now passed the port of Padang Bai, the traffic will be slightly denser than the previous day.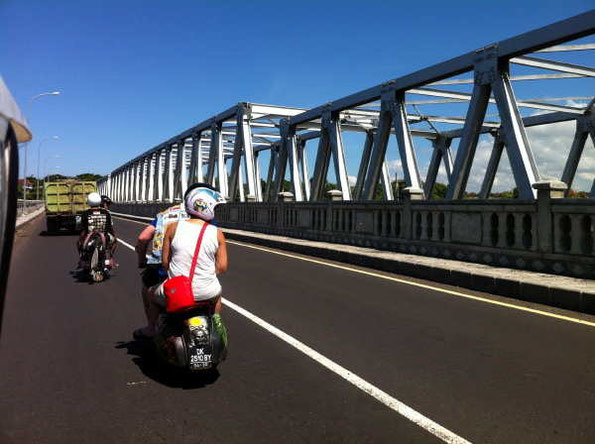 Now we turn away from the sea and pass busy villages and cities heading towards Ubud.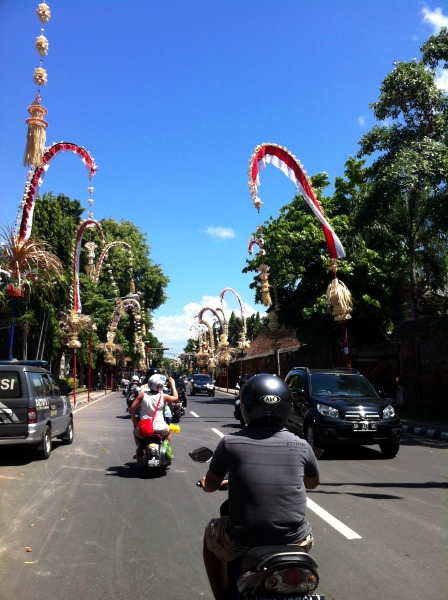 We are going to meet one of the top tourist attractions of Bali: the Temple Goa Gajah (Elephant Cave). You'll see many hawkers who want to force you to buy their products ("One Dollar, one Dollar!!") and expensive Artshops. With interest on your part, we can visit this facility with both, Buddhist and Hindu temples.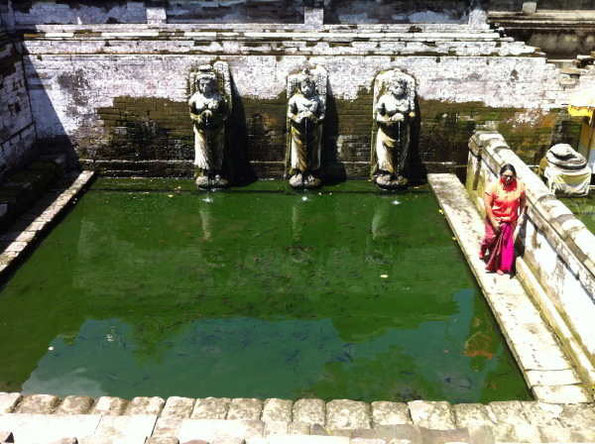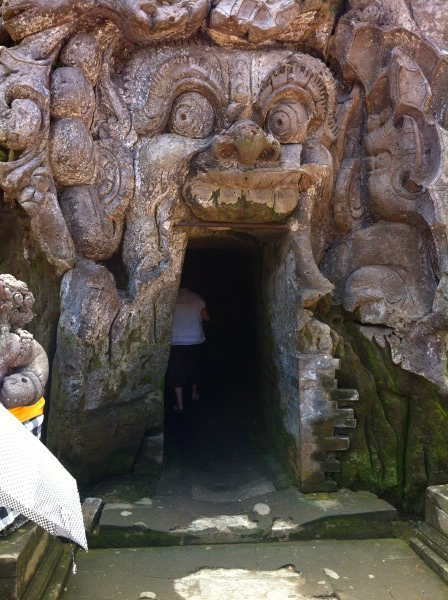 We'll have lunch at a local warung close to Ubud. As we would need a full day for all the attractions of Ubud, unfortunately there will be not enough time for that city.
---
Now the road rises up to Mount Batur. Along the road are the small craft shops, where they produce all the arts and crafts things that we associate with Bali. You can conveniently purchase travel souvenirs directly from the manufacturers. Whether you are looking for musical instruments, jewelery, carvings or other things: Here you will surely find anything.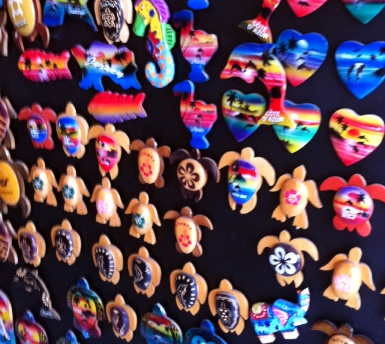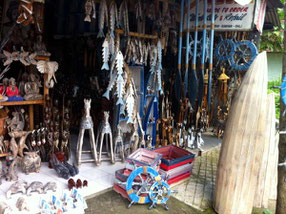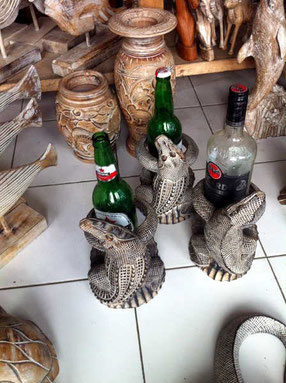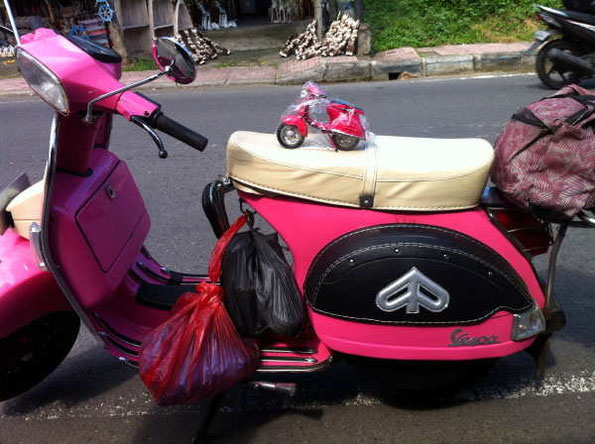 It could happen that it rains on the way up to Kintamani also during the dry season. But we'll bring rainwear for you.
On our last visit the Mount Batur was shrouded in mist, so that the volcanic lake and volcano inside the huge crater were almost invisible. This can also occur in tropical Bali....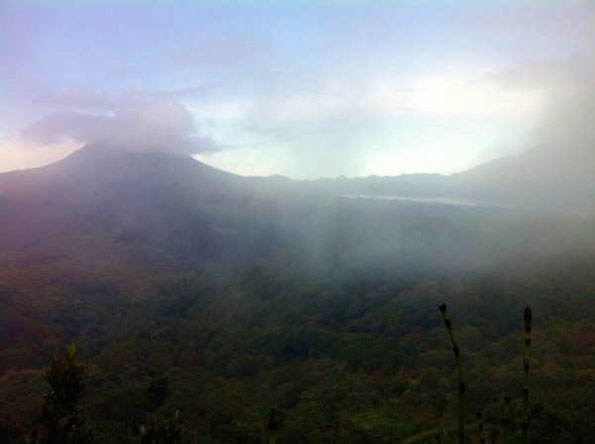 From Kintamani we will go down to the north coast again. After approximately two hours you will finally reach your hotel in Lovina.
---
| | | | |
| --- | --- | --- | --- |
| Time | Nature | Culture | Catering |
| Two-Day-Tour | Bali's most | Pura Beji | Drinking water |
|   | beautiful beach  | Goa Lawah | Snacks |
|   | Coastal and  | Goa Gajah | 2 times Lunch at a |
|   | mountain-regions      | Handicraft     | local Warung |
|   | of Bali |   | Coffee |
|   | Gunung Batur |   | in Candidasa with |
|   |   |   | breakfast |
---
REMINDER
1. An international driving license is required

2. If you want insurance, there is one option on our website: ( http://www.bali-vespa-tour.com/english/other-offers/travel-insurance/ )

3. You should be really familiar with handling a manual transmission Vespa.

4. You should familiar rise yourself with the chaotic Bali traffic. There are in fact traffic rules, but nobody really sticks to them.


5. One day in advance of your tour you will be visited by the staff of Bali Vespa Tour at your hotel for the "Bali Vespa Tour driving license". We just want to make sure you are really able to handle our scooters...
---
| | | |
| --- | --- | --- |
| Price per person |   |   |
| IDR 3.300.000 |   |   |
|   |   |   |
The price is valid from two participants - there is a surcharge of 50% for tours with only one participant.
---
Using the following form you can contact us directly if you are interested in this tour.
Please remember to state your preferred date, the number of participants and the desired pickup location / hotel and special wishes in your message! Please notice our GTC.

For incompatible browsers: EMAIL