Vespa-Trekking-Tour: Our guests are seated on the
pillion-seat from and to their hotel to the starting
point of the hike.
---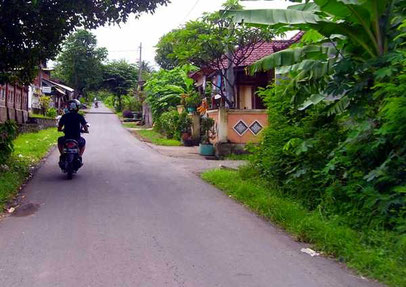 Using small backroads, our experienced Vespa-pilots will bring you to the starting point of your trek.
Your trek starts right in the middle of a bustling little village. Soon you arrive at a temple between rice terraces, where you can enjoy beautiful views.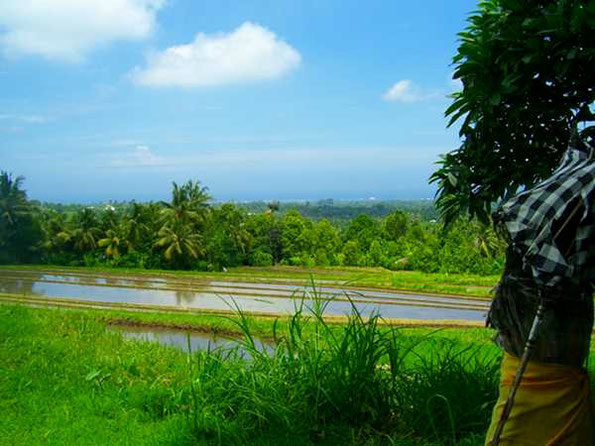 On a narrow path that leads initially to a small settlement in a wooded valley, we will loose the wide view for a short time.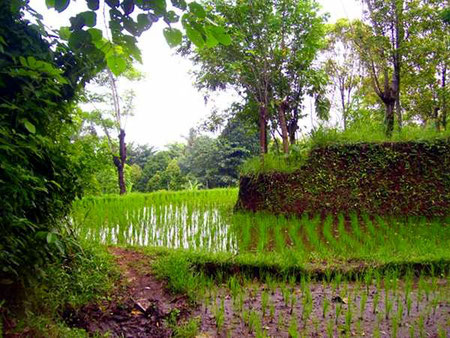 Soon, however, we will walk between rice terraces with a magnificent view to the sea.
As the rice farmers, or in the late afternoon, the lovers, we walk on narrow paths, called Pematang.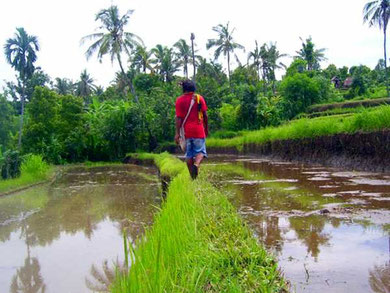 This paths may even be a little marshy. Good shoes and a certain amount of caution keep you here from slipping into the rice fields.
We pass a steep valley which could exhaust us a bit. Now we have almost reached the "wow-goal" of our tour. Only a steep, long staircase, which we have to descend, still separates us from this beautiful bathing place under the waterfall.
Now you have the opportunity to enjoy the river pool to your heart's content. In the small photo gallery below, you can click photos to enlarge the images, or by clicking in the little black triangle trigger a slideshow.

This is also the place where we will have a picnic with original Balinese dishes. Please let us know when booking if you prefer vegetarian or "normal" diet.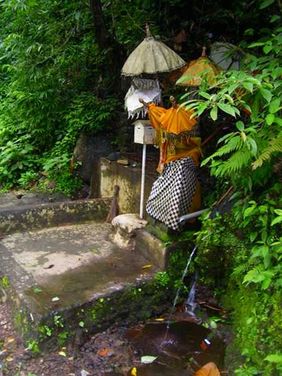 On our way back up to the level we pass the name-giving spring of this tour - Pancaka Tirta (5 holy waters).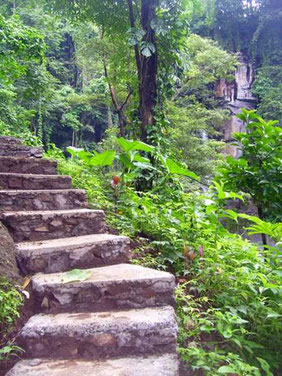 Now the steep stairs have to be ascended again - unfortunately there is no other access to our swimming spot. After a short coffee break at a warung we turn to the west.
On the wall of a small irrigation canal for the rice fields we walk for a few hundred meters. Right hand the cliff falls down to the bottom of the waterfall's gorge.
The warning label on the photo indicates that you shouldn't throw down anything - other people might be at risk.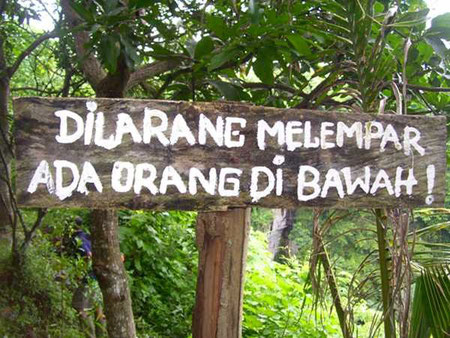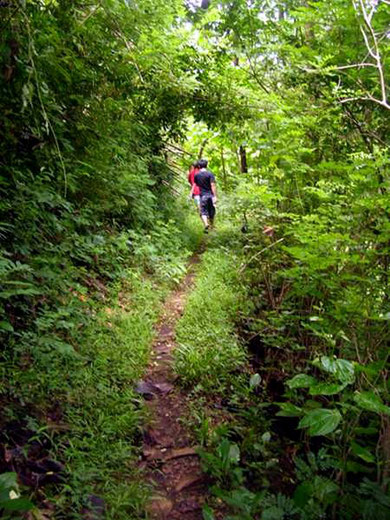 partially through the forest,
partially through rice fields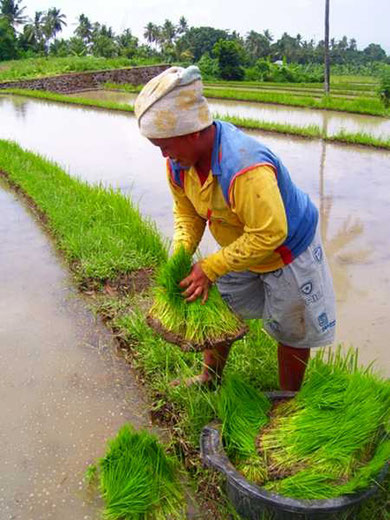 where you - if you are lucky - meet working farmers, and, of course, continue to enjoy great views,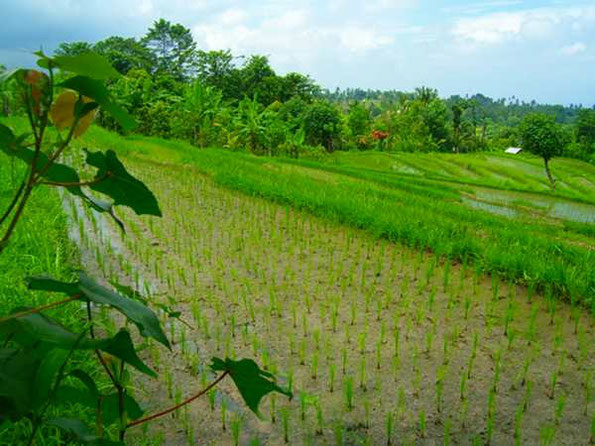 You finally reach the main road from Singaraja to Denpasar which we have to  cross. 
Since we are traveling in an east-west direction, we need to
overcome all the volcanic "nicks" and grooves which proceed at the flanks of the volcano mountains from south to north .
One can see in the photo that is recommended for this tour good shoes.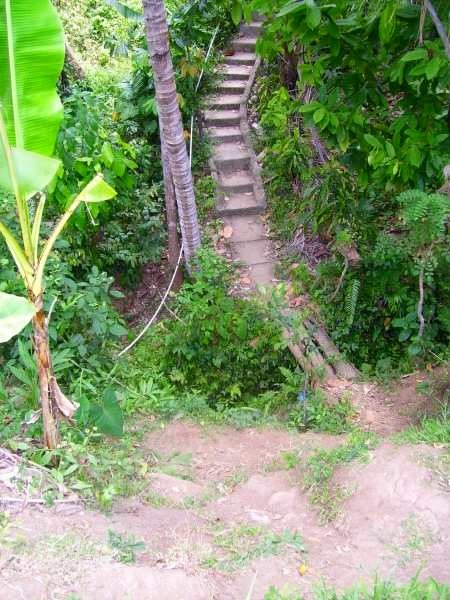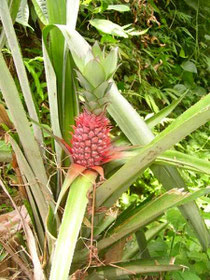 You will meet plenty of photo opportunities like this young pineapple.
We follow narrow paths often on the walls of irrigation canals for the rice fields.
Then we step out into the "open" land again. This is nearly always synonymous with rice fields.

You can have great views down to the north coast even if you can only dimly imagine the sea in our image.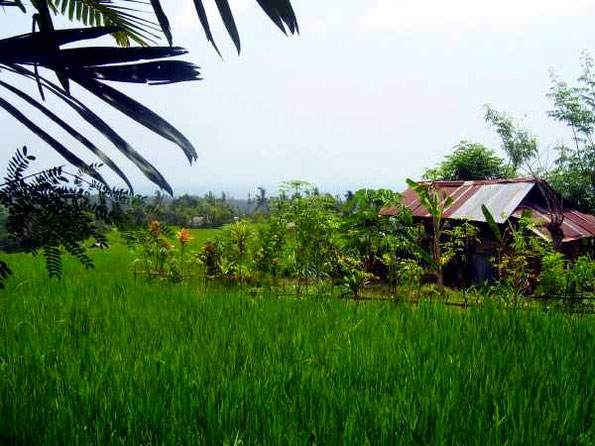 Sometimes these paths swing almost picturesquely through the rice terraces.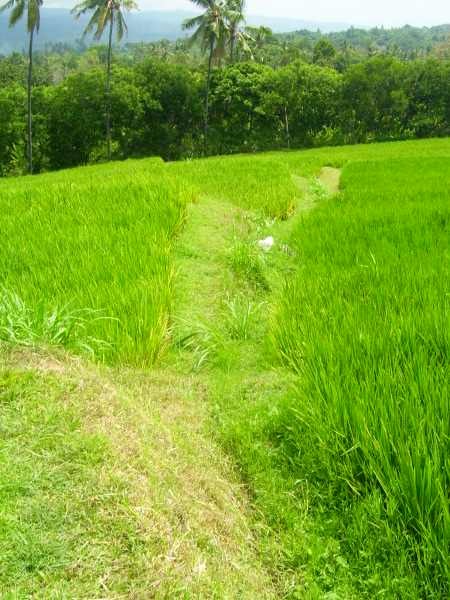 Time after time, we pass small settlements, where we experience the daily life of the Balinese people and we meet less steep, well-developed stream valleys.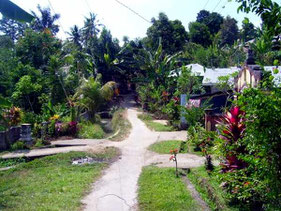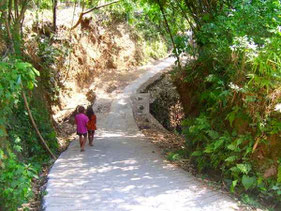 What water can move and change over the course of a millennia, we can see in pristine streams.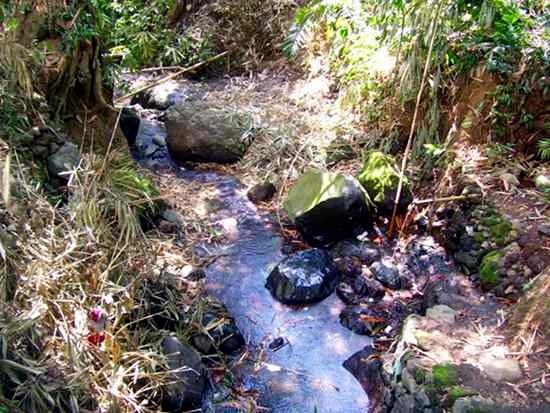 With a little luck we meet farmers as they harvest bamboo and see what they produce of the bamboo, as in this case chopsticks for Sate Lilit, a dish of minced, hot seasoned meat.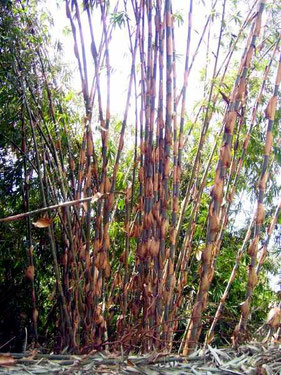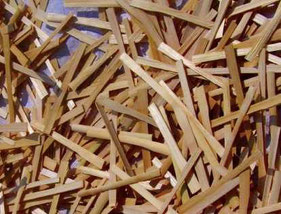 And what an effort it is to harvest rice - and how much manpower is in this work - you can experience the harvest time also.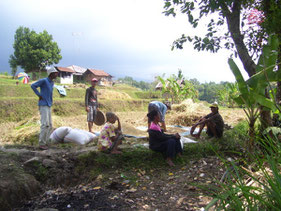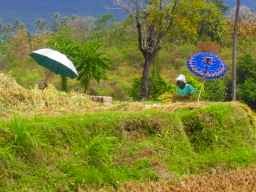 Astonished cows look at the unusual white hikers ,
while they can enjoy views for which european tourists in five-star hotels
would have to pay lots of money.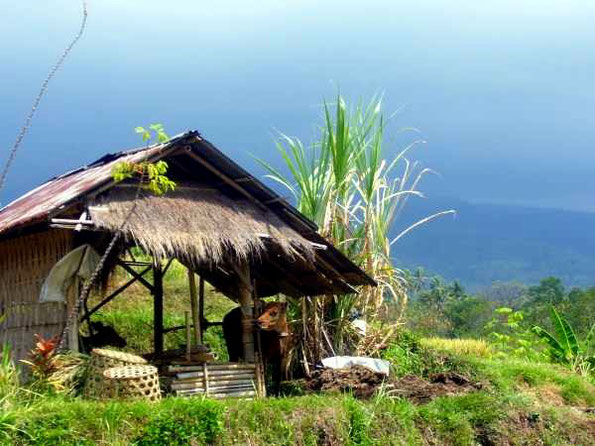 The terrain becomes steep and difficult to overcome while we descend into a deep valley with a large river. 
For us it is hard work to come down without falling, as it is steep and slippery, while Balinese carry heavy loads here. 
But we receive a small compensation: We can admire interesting natural phenomenas.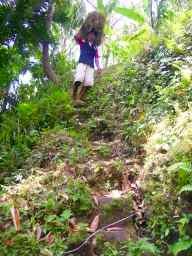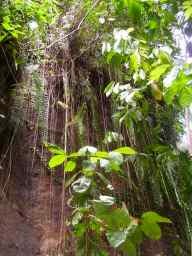 Down in the valley there is this extraordinary bamboo bridge.

A quite staggering and wobbly affair to overcome it!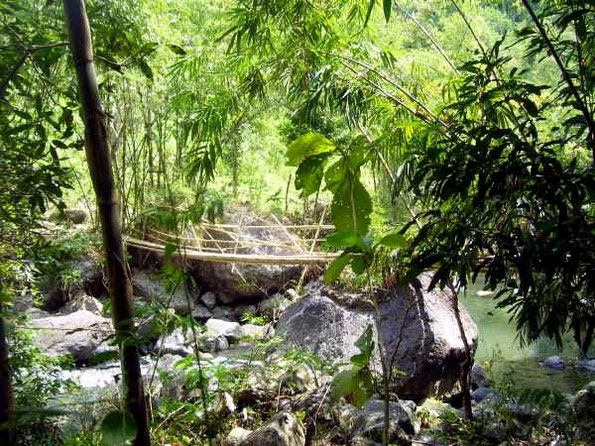 We see in the river bed constructions for the distribution of water over the rice fields and, as always, can participate in the everyday life of the locals.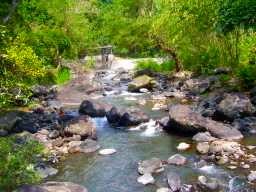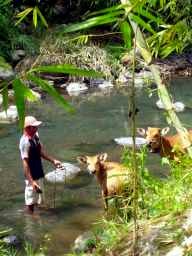 We pass a giant tree with a very impressive root, which hopefully is not threatened by the chainsaw.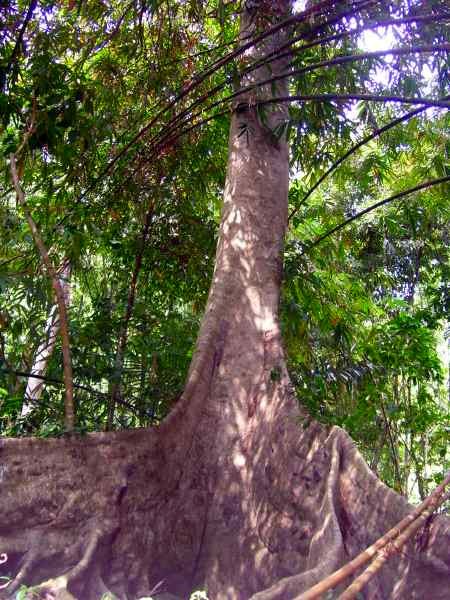 From the opposite slope, we have wonderful views down to the still pristine stream.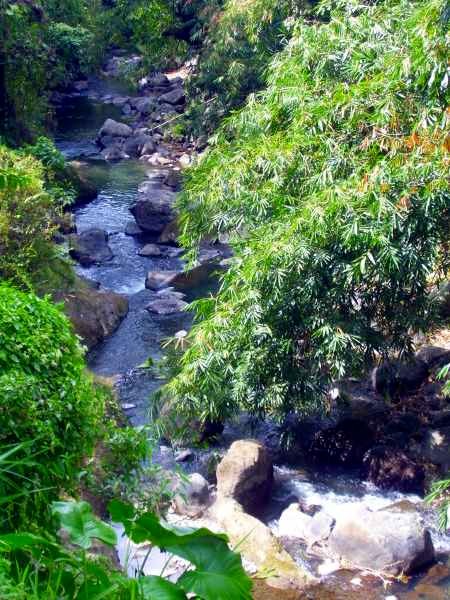 When we leave the valley, we cross peasant country, where flowers especially for the rituals of the Hindus are cultivated.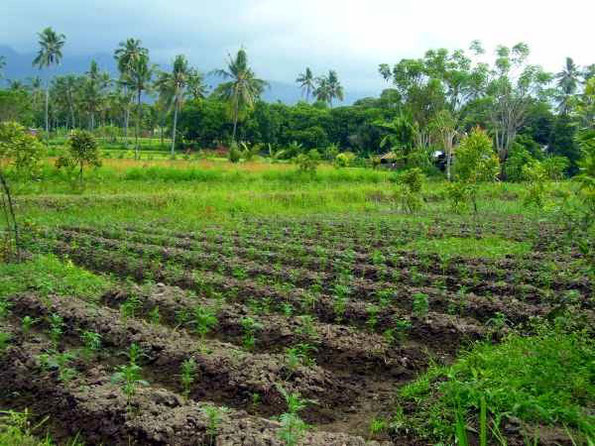 Before we get to base camp and thus to the end of the hike, 
where we can refresh ourselves with coffee and other beverages, 
we meet one final highlight of the tour: a huge temple tree whose aerial roots form an impressive curtain.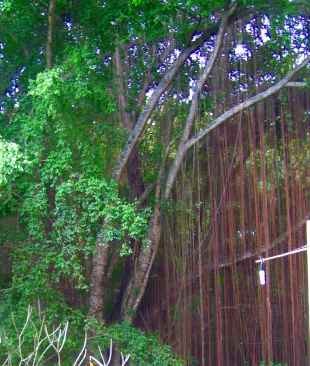 From the base camp, our experienced pilots will bring you back to your hotel.

---
| | | | |
| --- | --- | --- | --- |
| Time | Nature | Culture | Catering |
| 8 hours      | Waterfall    | Spring             | Drinking Water |
|   | Swimming in | Pancaka Tirta       | Lunchbox |
|   | natural river-pool | Encounter | Snack |
|   | Tropical monsun-rain-      | with local | Coffee               |
|   | forest | daily-life |   |
|   | Rice terraces |   |   |
---
| | | |
| --- | --- | --- |
| Price per Person |   |   |
| IDR 840.000 |   |   |
|   |   |   |
The price is valid from two participants - there is a surcharge of 50% for tours with only one participant.
---
Using the following form you can contact us directly if you are interested in this tour.
Please remember to state your preferred date, the number of participants and the desired pickup location / hotel and special wishes (e.g. vegetarian food) in your message! Please notice our GTC.

If you use an older browser, it could happen that the form below won't work. If you don't get a confirmation regarding your mail, please contact us here: Mail
For incompatible browsers: EMAIL